Welcome to Six Flags Darien Lake
Six Flags no longer owns the Darien Lake Park. CNL Income Properties now owns the park.
More Videos

Darien Lake is home to one of the largest Ferris Wheels in the world and was voted one the best places to visit by roller coaster enthusiasts. The park houses five unique adult roller coaster rides, one of the largest selections of any local amusement park. The park's rides include the Viper, Boomerang, Mind Eraser, Predator and Superman. The park also has three very fun water rides. Overall, the atmosphere at Six Flags Darien Lake is relaxed and enjoyable. With over 100 rides, shows and attractions, including five world-class coasters, a giant water park, the Laserblast laserlight/fireworks show, and a Performing Arts Center showcasing top music acts, there's too much fun for one day! So stay for days at our on-site hotel or campground. Six Flags Darien Lake has many concerts yearly. Be sure to check the Darien Lake Concerts website.
Boomerang: Coast to coaster. A reverse shuttle that reaches 50mph and as tall as the Viper.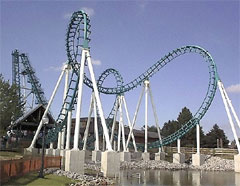 The ride was designed by Vekoma and can be found at several Six Flag parks. The configuration is a single train carrying twenty eight people (two in each row). The train is pulled backwards up the lift hill and dropped going through a roll and a loop. The train then gets pulled up a the twin hill and dropped again. Coast to Coaster...get it?

The Viper The park's signature coaster. Five inversions make this ride a must. The Viper reaches an incredible 121 feet in height with a 75 foot drop reaching 50 mph.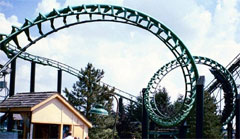 In fact, the Viper was the first coaster to ever have five inversions. The Viper was designed and built by Arrow Dynamics Inc. of Utah in the early 80's but remains an incredibly innovative and exciting coaster. Some people complain about the tight harness but they are there for your your own safety.

The Mind Eraser. The region's only suspended looping coaster. A smooth but fast and tall ride.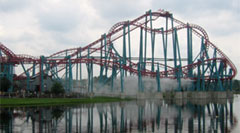 The ride lasts one minute 25 seconds. It was built by Dinn Corp in 1990 and was one the first of it's kind. Riders are suspended and ride below the track. The resulting ride is a very fluid ride with no excessive jerking. Recommended to all, this ride has everythng a good rollercoaster needs: speed, loops, height, and drops.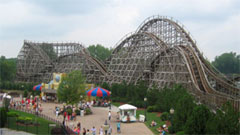 The Predator For classic roller coaster lovers, the predator is the parks wooden coaster. A very exciting ride, this wooden coaster reaches 50mph! A bumpy ride, the Predator is one of the park's original rides. It was built before Darien Lake was purchased by Six Flags.
Superman: Ride of Steel Designed in Germany at a cost of 12 mi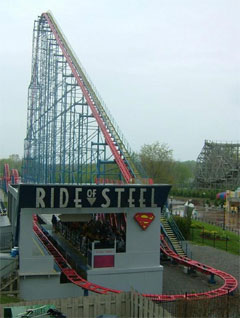 llion dollars this is mamoth ride. One of the fastest and tallest rides in the world! At 70mph this is an absolute must.